What is 'Final Fantasy XIV launcher error'?
Final Fantasy XIV (FFXIV) launcher error is an error that usually occurs when you try to open the game and you would be unable to play until it is resolved. When it happens, it may mean that you were unable to connect to the game servers for whatever reason.
You may also see an error message like, "A system error has occurred – 2146697211."
How can you fix 'Final Fantasy XIV launcher error'?
Some of the common fixes include:
Editing FFXIV_BOOT.cfg File
Logging in as Administrator or running FFXIV as Administrator
Checking the internet connection
Please see our in-depth walk-through solutions below.
1. Edit FFXIV_BOOT.cfg File
Final Fantasy XIV (FFXIV) launcher error is usually due to FFXIV_BOOT.cfg file, where the B4EulaAgreement or the End-user license agreement and the BootVersionCheckMode areset to zero, which means no or null. Try to open the FFXIV_BOOT.cfg file and change the B4EulaAgreement equal to 1. To do this see steps below.
Go to C:\Users"YOURUSERNAME''\Documents\My Games\FINAL FANTASY XIV - A Realm Reborn folder.
Right-click FFXIV_BOOT.cfg then select Open with and then select Notepad.
Look for the following below and change 0 to 1.Language 1
Region 2
EulaAgreement 1
StartupCompleted 1
B4EulaAgreement 1
BootVersionCheckMode 1
ConfigReset 0
Save the file as FFXIV_BOOT.cfg or press CTRL key + S key.
If the error continues, delete the FFXIV_BOOT.cfg file.
2. Log in as an Administrator or Run FFXIV as Admin
Final Fantasy XIV (FFXIV) launcher error could also be due to the lack of administrative privilege. Try to log in as an Administrator account or right-click the FFXIV launcher and select Run as Admin. It may request an Administrator username and password. If you do not own the computer, you may want to ask for assistance.
3. Check Internet Connection
Final Fantasy XIV (FFXIV) launcher error may also indicate a problem with your internet connection. To confirm, try to use your mobile data if the launcher runs or does an update. If it does, manually change your DNS address to Google Public DNS with a primary DNS 8.8.8.8 and secondary DNS as 8.8.4.4.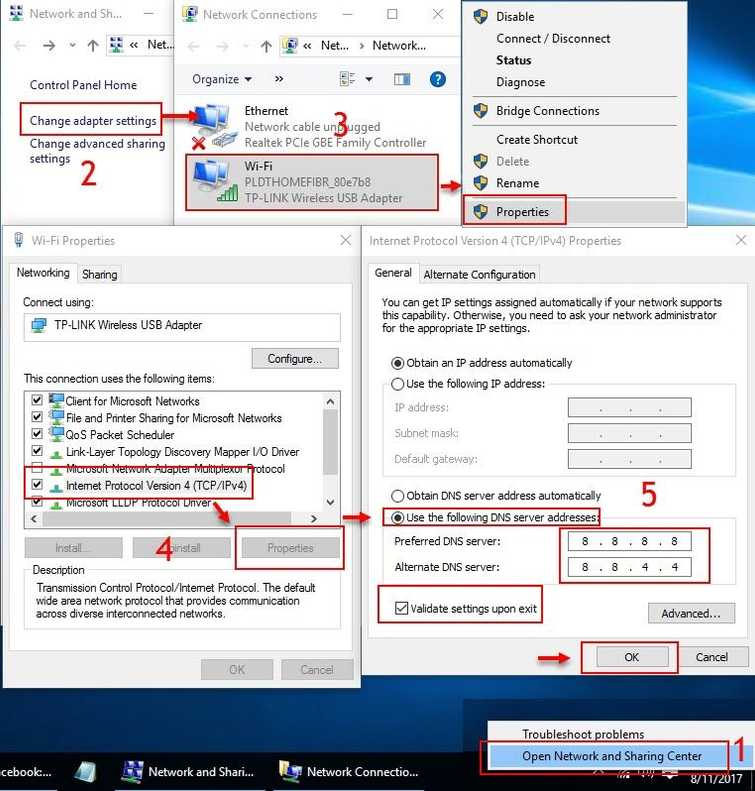 Image Credit: genesismarasigan / ErrorSolutions.tech
NOTE: You may use other DNS Address if you have one. To change DNS address, see the steps below or see the Youtube link below.
For PC
Watch it here on Youtube.
Option 1: Right-click the network icon from the taskbar located at the lower right side of the desktop and select Open Network and Sharing Center.
Option 2: Click Windows Start type View network status and tasks and press Enter key.
Click Change adapter settings.
Select the network icon you are using, then right-click and select Properties.
Select Internet Protocol Version 4 and click Properties.
Enable Use the following DNS server addresses.
Input 8.8.8.8 for the Preferred DNS server.
Input 8.8.4.4 for the Preferred DNS server.
Enable Validate settings upon exit.
Then, press OK and restart your computer.
For PS4
Go to Settings then go to View connection, copy the details or take a picture of it.
Go to Network >>Set up internet connection >>Custom
Select Wi-Fi if you're using a wireless connection.
Select LAN if you're using a cable.
Select Manual. Input IP, subnet, and gateway from the View connection.
Choose Do not specify for DHCP Host Name
Choose Manual for DNS settings.
Set Primary DNS and Secondary DNS.
Primary DNS: 8.8.8.8
Secondary DNS: 8.8.4.4
Restart your PS4.
If changing the DNS address does not work, you might be under a firewall or the ISP might be the causing the error. Power cycle your computer/ console and your modem router to apply the changes then try again.