What is 'PS4 error code SU- 41350-3'?
"PS4 error code SU- 41350-3" is an error that may occur when trying to start your device but it goes into safe mode. Users may also get the error message, "Cannot Find Update File."
How can you fix 'PS4 error code SU- 41350-3'?
Some of the common fixes include:
Using the correct USB format and firmware
Using another USB flash drive
Please see our in-depth walk-through solutions below.
1. Use the Correct USB Format and Firmware
"PS4 error code SU- 41350-3" may appear when the console could not detect the firmware. The firmware could be wrong, the file and folder naming is wrong, or the USB format is wrong. To correct it, see steps below.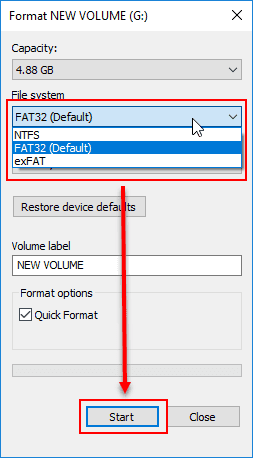 Image Credit: genesismarasigan / ErrorSolutions.tech
Step 1. Format USB to Fat32
Insert the USB flash drive to a computer.
Right-click the assigned drive of the USB flash drive.
Select Format.
Change the File system type to FAT32.
Click Start.
Step 2. Download the Official PlayStation 4 firmware
Option 1. The firmware that keeps all Data
Go to the PlayStation 4 official website here.
Click the "DOWNLOAD NOW" for the firmware.
Option 2. The firmware that is used to format the PS4. This is also used for a new PS4 hard disk drive.
NOTE: Please backup your data this will wipe all data inside your PS4.
Go to the PlayStation 4 official website here.
Scroll down and look for "Perform a new installation of the system software."
Click to expand.
Next click "DOWNLOAD NOW" to download 900mb firmware size.
Step 2. Create a USB flash drive for PS4 update firmware
Inside the USB flash drive create a folder named it as PS4 (case sensitive).
Inside the PS4 folder, create a folder name UPDATE (case sensitive).
Inside the UPDATE folder, copy and paste the PS4 firmware and name it as PS4UPDATE.PUP(case sensitive).
Reboot your PS4.
Go to PS4 Safe mode and do an update.
Here is a video tutorial for PS4 manual update
2. Use Another USB Flash drive
A defective USB flash drive may also result in "PS4 error code SU- 41350-3" when applying a manual update. Try to use another USB flash drive to determine if the one you are using is defective, but make sure to follow the instructions in Solution 1.
If the firmware update procedure works when using the other USB flash drive, the error could be caused by the old USB flash drive. Avoid using it again as a storage device to avoid future problems, such as file corruption.